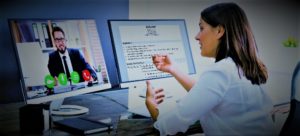 Many things in our lives have changed dramatically since the pandemic began: some for the good and some changes that seem to make our daily lives harder. It's the same when you are applying for jobs. The need for job applicants to prepare for remote interviews is a major element of the latest application processes. It isn't likely to change any time soon. The bottom line is that remote interviews save time, resources and money for the interviewer and the organisation. Many employers are requesting an initial phone interview to cull the applicants down to a reasonable number to be interviewed. Applicants should expect to be asked to arrange a time for a remote interview and respond accordingly. Of course it makes sense to make yourself as available if possible, just as you would for a real interview.
With collaboration tools used fairly sparingly by interview panels to facilitate interviews before 2019, that all changed with the more accepted use of a range of video conferencing options: MS Teams, Skype and Webex. Let's not forget Zoom which gained over 2 million customers in the first two months of the pandemic, more users than it had accumulated entirely during the previous year. With the introduction of remote schooling requirements for families, Google Classrooms became a useful tool for parents to assist with the education of their children. The expectations for the general workforce and logically for job applicants to be competent users of these technologies grew and grew.
Businesses evolved with the times as more people began working from the Office of Everywhere. So the next step was for the internal processes of employing new staff radically changed for the corporate world too.
Resumes for Results offers a remote, 90-minute interview preparation session to prepare clients for what can usually be a highly stressful experience. There can be extra pressures created by having to interact with a potential employer from behind the computer screen instead of meeting a panel of interviewers in person. Your ability to develop rapport with others is much greater in person than via a video call or over the phone.
Several of the same rules that apply to in-person interviews are also relevant to remote interviews. Wearing plain but professional clothing options, displaying positive body language and making appropriate eye contact are important aspects of all interview scenarios. Putting yourself forward as a highly suitable candidate for the job is about doing as many of the right things while avoiding the wrong things.
But remote interviews have their own set of difficulties, such as the possible overuse of hand gestures (very distracting on screen), internet connection instability, finding the best background in your home, and ensuring a quiet setting without distractions, to name just a few. Keeping as still as possible makes it easier for the panel or interviewer to focus on what you are saying, not what you are doing.
It's now accepted that as a jobseeker, you need to be competent using at least one of the three main video call apps: Zoom, MS Teams or Skype. Effectively interacting with a potential employer using these platforms can add to the stress of the situation if you don't set the scene properly.
By carefully decreasing these stresses, you can help to minimise the anxiety involved. Being prepared is the name of the game.
Just as you might prepare for an in-person interview, you need to try to scrutinise the job description thoroughly for hints to possible questions. Any Key Selection Criteria (KSC) listed will almost definitely form part of the questions, as will other essential requirements that are mentioned in the job advertisement.
You can then develop appropriate answers to these questions and practise them, rehearsing your responses in front of another person or to a mirror. Recording yourself and then adjusting your responses will help you feel ready for the interview itself, lessening your anxiety considerably.
Our interview preparation sessions include a mock interview lasting around thirty minutes via a range of apps. The client can choose whether the Consultant can record the mock interview section for them or not, for an extra level of preparation. If that preference is chosen by the client, the Consultant can then record and save a video file, sending it through to the client afterwards. The Consultant can also scan the notes taken during the mock interview section if required.
Both the Consultant and the client may complete feedback forms after the mock interview, with the client gaining a further insight into their online presentation.
All this helpful preparation can help our clients see how they performed from the other side of the computer screen and use this to improve their interactions in the proper interview session itself.
For some other hints about this process and more, you can listen to Henry Grossek's podcast "Viewpoints" with RFR Co-Director, Jennifer Maly.